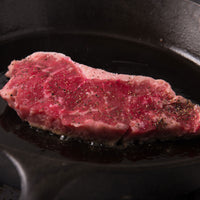 Tillman's Meats perfect and delicious New York Strip Steak is famous for its beautiful texture, juiciness and exceptional flavor. It is ideal for anyone looking for a delicious steak experience. This world-renowned steak is characterized by its wonderful rich beefy flavor with just the right amount of marbling.
Tillman's Meats offers the New York Strip as our steak masters delight, a great combination of marbling and tenderness that makes the New York Strip Steak a true diamond.
The masters at Tillman's Meats have sourced the best beef, aged it to perfection, hand cut and expertly trimmed each and every New York Strip Steak. A definite yes for anyone craving a delicious steak experience.
Most suitable for a casual or fine dinner, special occasion or as a very special gift.
Best suited for the grill, cast iron skillet or sous vide.
Perfectly aged to intensify the natural delicious flavor
Hand cut by the masters at Tillman's Meats
Individually hand trimmed, leaving just the right amount of exterior fat
Good marbling
Flash frozen and individually sealed to lock in flavor and juices.
High end restaurant quality delivered right to your door
Steaks are hand cut by weight – actual thickness may vary very slightly
Treat your guests with Tillman's Meats NY Strip that'll surely impress.