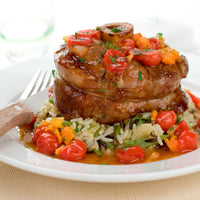 Tillman's Meats Veal Shank from our Milk Fed Veal makes the perfect Osso Bucco!
An extravagant and delicious selection, Tillman's Meats veal shank is cut from the tenderest portion of only the best selection of veal shanks. It is the finest of fine dining shanks because of its unmatched tenderness and quality.
Veal Shank is most suitable for a fine dinner, special event, holidays or as a very special gift.
Amaze your guests with this perfect Tillman's Meats Veal Shank!