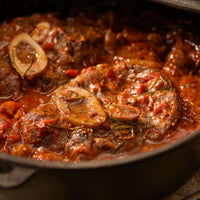 Tillman's Meats Beef Shanks are ideal for braising, slow cooking or grilling.
Cut and sliced from only the best selection of USDA Beef, our beef shanks are meaty, full of flavor and is a perfect item to add as a side dish or main course. Cut and flash frozen to lock in flavor and juices, this contemporary exotic cut of beef is a chef's culinary delight!
We've searched and sourced the best beef and have it available to you, at your doorstep!