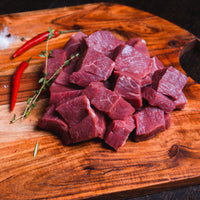 Tillman's Meats Bison Stew Meat makes the best stew dishes.
Used in an array of Local and International dishes because of its delicious taste and consistency, Bison Stew is a favorite among top chefs and experts.
Bison is considered an excellent source of lean protein, and is used by many as a protein alternative. It comes packed with rich flavor and consistency.
Tillman's Meats Bison Stew is a must try exotic item. Our Bison is cut fresh, frozen and vacuum sealed to lock in flavor and juices.
Hand cut by the masters and trimmed to perfection, our bison stew meat is cut into 1 ½ inch pieces with very slight variations as it is all hand cut and trimmed.