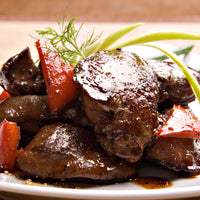 Tillman's Meats Beef Liver is the perfect selection and culinary delight for exotic beef-cut enthusiasts.
Cut and sliced from only the best selection of USDA Beef, the Beef Liver is a versatile item and is perfect as a side dish or main course. This contemporary exotic cut is a chef's culinary delight!
The experts at Tillman's Meats have searched and sourced the best beef for your dining pleasure.