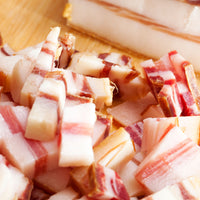 Tillman's Meats Pork Fat Back is perfectly suited for top culinary selections.
Sweet, clean and flash frozen to lock in flavor, Tillman's Meat's Pork Fat is the choice of chefs and culinary experts. Once you try our pork fat, you'll understand why it's famous!
We've searched and sourced the best pork fat and have it available to you, at your doorstep!