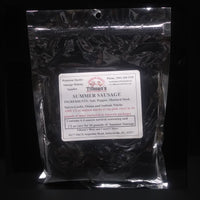 Tillman's perfect blend of Summer Sausage Seasoning makes a delicious Summer Sausage – Authentic Style. All you need to do is add some curing salt (included separately inside) and of course meat!
A perfect combination of Natural Herbs, Spices, Salt, Pepper, Mustard Seed, Garlic, Onion, and Sodium Nitrite your Summer Sausage will be the talk of the town!
Package contains about 6.4oz of seasoning that makes 10lbs of summer sausage and comes with instructions for sausage enthusiasts.
*Natural and Collagen Sausage Casings are also available at Tillman's Meats*