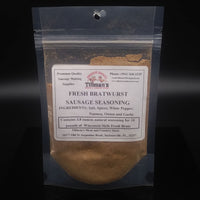 Tillman's perfect blend of Bratwurst Sausage Seasoning makes a delicious Bratwurst Sausage – Wisconsin Style. All you need to do is add the meat!
A perfect combination of Nutmeg, Natural Herbs, Spices, Onion, Garlic, Salt and White Pepper your Bratwurst Sausage will be the talk of the town!
Package contains approximately 3.8oz of seasoning that makes 10lbs of sausage and comes with instructions for sausage enthusiasts.
This sausage is perfect for the grill or stove top when made either into sausage links, rope or patties.
*Natural and Collagen Sausage Casings are also available at Tillman's Meats*