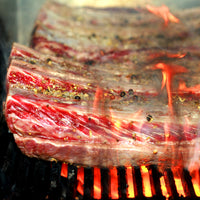 Tillman's Meats Beef Ribs are matchless and extremely delicious.
An exceptional cut off the rib by Tillman's Meats, the beef plate or beef plate rib is a very primal cut of beef. These ribs are hand cut and trimmed by Tillman's Meats and are sometimes referred to as Dino-Ribs or Fred Flintstone Ribs due to their size, thickness and primitive appearance.
The beef plate rib is one of today's hottest gourmet cuts of beef. Grill or slowly braise to perfection, beef ribs are super rich in flavor and unbelievably juicy.
Tillman's Meats Beef Ribs comes with 3 ribs per plate, they are thicker, meatier and juicier than the 4-bone rib option.
Best suited for the grill, oven or sous vide.
Most suitable for a casual dinner, tailgating, or weekend cook-out.
Perfectly aged to intensify the natural delicious flavor
Hand cut from the best beef ribs
Individually hand trimmed, leaving just the right amount of exterior fat
Moderately to well-marbled
Flash frozen and individually sealed to lock in flavor and juices.
High end restaurant quality delivered right to your door
Ribs are cut by weight – actual thickness may vary very slightly
Treat your guests with this fabulous cut of beef!