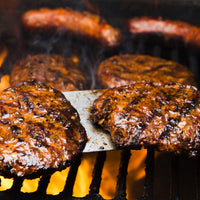 The Tillman's Meats juicy and flavorful Filet Mignon Burger Patty is made with the finest, hand-picked USDA certified prime tenderloins. It is perfectly ground and blended with a small portion of sweet beef fat to enhance flavor, tenderness and juiciness. A definite yes for anyone craving a delicious burger experience.
The Tillman's Meats Filet Mignon Burger Patty will rule all other burger patties with an explosion of taste and tenderness that no other burger patty will rival. We've searched and sourced the best beef, aged it to perfection, expertly ground and blended each and every patty.
Most suitable for casual to special occasions, outdoor party or as a very special gift.
Best suited for the grill or cast iron skillet.
Perfectly aged to intensify the natural delicious flavor
Selected from the best prime beef tenderloins
Ground and blended-in with the right amount of fat
Flash frozen and sealed to lock in flavor and juices.
High end restaurant quality delivered right to your door
Hand-made patties are made by weight – actual thickness may vary very slightly
Amaze your guests with this awesome burger patty from Tillman's Meats.