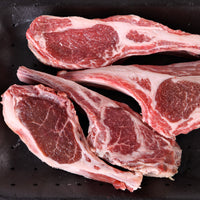 Tillman's Meats has the most delicious lamb chops available in the market. Also commonly referred to as Lamb Lollypop Chops it is the Butchers Choice for Lamb Chop Lovers. We've sourced the best Lamb from New Zealand and it's now available to you for your culinary masterpiece.
Expertly hand-cut and hand-trimmed by the masters at Tillman's Meats, our Lamb Chops are definitely an exotic culinary delight.
Lamb Chops are used in an array of Local and International dishes because of its delicious taste and consistency. A favorite among top chefs and experts around the world, Tillman's Meats Lamb Chops is a must try exotic item.